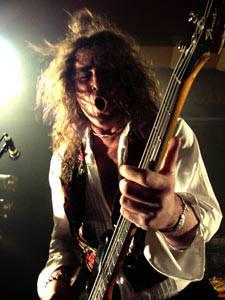 Photo Credit: Bill Frates
Phil Kennemore

Oct 20, 1953 – Jan 7, 2011
Phil Kennemore's first band consisted of five guys; the only problem was that nobody could play. Phil says he didn't even know what a bass was-he just knew he wanted to play. Since everyone in that first band played guitar, Phil took two strings off his guitar and decided to be a bass player.
At around age thirteen, Phil bought a St. George guitar at a pawn shop for $35 and a sparkly carrying case for $45. The first song he ever learned to play was Gloria by Them. The very first bass he bought was a no-name bass (Winston?); it was as warped as a Jai Alai racket and cost a mere $5. Phil continued playing (yet he still wasn't sure what a bass player's role was). "I would just follow the guitar players. If they were on the third dot, I went to the third dot." The first song Phil learned that really had bass lines in it was Monterey by Eric Burdon and the Animals. Next, he learned Crossroads by Cream-Jack Bruce's bass lines (all bass players at that time had to do that). Like so many musicians, after Phil saw the Beatles on The Ed Sullivan Show, he knew come hell or high water, he was determined to be in a rock band, and so he carried on. He was then smitten by the velvet-clad, mod look and sound of Rod Stewart and the Faces and that vibe furthered his desire to be in a band.
Prior to Y&T, Phil played in many other bands (his first band was Crystal Sunshine-the name explains the era); they started off like everyone else playing anywhere they could (Elk's Lodge, Job's daughters, parties). While in junior high school, instead of listening to the teachers, Phil would draw a guitar neck on his arm and practice fingering chords. At that time, mentally, he had already decided that he wanted to play in a band; he only did enough schoolwork to keep authority from coming down on him. If he wasn't practicing guitar on his arm in class, he was doodling-drawing musical equipment instead of paying full attention to the teacher. At home, Phil created his own world-he took the mattress off his bed, put plywood on his bed frame, and made his very own stage where he'd place his amp and perform on "his" stage.
When Phil was in high school, he started a band with his brother Jeff. The band used to perform after school at Jeff's junior high school on the basketball courts. Phil had already known Leonard Haze (since he was eleven years old), but on one particular day while performing on the basketball courts, along came this frizzy headed dude-Dave Meniketti. That's the first time Phil remembers meeting Dave. The guys jammed a song together that afternoon. Another tidbit: once Phil's brother Jeff auditioned for a band of Leonard's called The Mustangs. Phil didn't own a real instrument until he was 18. He rode the bus thirteen miles to a music store and paid $55 as a down payment for a used black Fender Jazz. The next month he paid another $50, and then he paid $5 a week until his bass was paid off ($250 total). He rode the bus every week just to smell that bass; besides the smell of excitement, that bass had a certain smell to it that he loved (the wax, the wood). That bass is the same black Fender Jazz that Phil used his entire career with Y&T.
In the early months of Yesterday & Today, the bass player at the time wanted to move on to rhythm guitar in the band instead of bass, so Leonard and Dave called Phil to join on bass. Soon thereafter, they kicked out the old bass player (who was the new guitar player) and they started writing original material. In 1974, Yesterday & Today won first place at the Hayward Battle of the Bands. The band that took second place had a rhythm guitar player named Joey Alves. A week later, Phil, Leonard and Dave asked Joey to join the band – and the rest was Y&T history.
The bass players Phil used as models for the style he felt Y&T needed were Leo Lyons (Ten Years After) and Gary Thain (Uriah Heap), along with many others. Phil's diverse musical interests would be shocking to Y&T fans. He liked every style of music and said he could not condemn any particular genre (only people with narrow minds should be condemned). He found validity in all music-from the corniest mellow stuff to the most avant garde. Phil always fancied himself more as a songwriter/creative person than a musician. Along with Leonard Haze, Phil performed and recorded Marty Balin's rock opera Rock Justice.
Phil Kennemore, original bassist for Y&T passed away on January 7, 2011, from lung cancer. Phil will forever be missed and his mark on Y&T and rock music will continue to be celebrated by the band and by fans worldwide.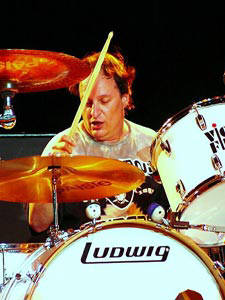 Photo Credit: Bill Frates
Leonard Haze

Sept 7, 1955 – Sept 11, 2016
Leonard Haze began playing drums as a kid. As the drummer and cofounder of Y&T, Leonard gets the credit for naming the band "Yesterday & Today." As the story goes, one day a promoter called to book the band for a gig – only problem was that the band had no name. While on the phone with the promoter, Leonard looked around his room and saw the Beatles "Yesterday & Today" album – and so, in the heat of the moment, the band was named. In 1986, Leonard Haze was named the World's Fastest Foot in Circus Magazine by Carmine Appice.
In addition to touring the world and recording on nine different Y&T albums, Leonard also spent several years touring the world and recording two albums with the legendary Ian Gillian (Deep Purple). Along with Phil Kennemore, Leonard played the lead in the stage production of Marty Balin's Rock Justice and played drums on the soundtrack album.
Leonard's career with Y&T cemented him as one of the great drummers in rock and inspired many a drummer with his unique style.
Leonard used Ludwig drums (since 1979), Paiste cymbals (since 1980), Vic Firth drum sticks, and Axis Percussion.
Leonard passed away September 11, 2016, due to complications from chronic obstructive pulmonary disease.
Photo Credit: Bill Frates
Joey Alves

Aug 3, 1954 – March 12, 2017
Joey Alves was born in Oakland, CA and grew up in a small town just south of Oakland called San Lorenzo. He started playing guitar after high school and he was only in one local band before joining up with Dave, Leonard, and Phil in Yesterday & Today. There, Joey set his sights on mastering a new and more aggressive approach to the traditional style of rhythm guitar. He felt fortunate to have always been given the freedom to experiment from his band mates. Still today, as a result of Joey's efforts, his playing receives countless praise from musicians he has influenced.
Joey passed away on March 12, 2017, after battling ulcerative colitis and other health complications.
Photo Credit: stefburns.com
Stef Burns

Born in Oakland, California, Stef Burns grew up in Walnut Creek, California. He started playing his dad's guitar around age six. At seven, he got his first electric guitar-a Winston and later upgraded to a Fender Mustang. Stef formed his first band at the age of nine-The Yellow Brick Road. They played songs like Wild Thing and Louie Louie and weren't bad for a bunch of fourth graders. In high school, Stef had a band called Legend and he played a Gibson L6-S. They played 70s material such as Allman Bros, Lynyrd Skynyrd, Montrose, Led Zeppelin, Deep Purple, and the Marshall Tucker Band. The next band was called New Legend and they played jazz/rock fusion, writing their own songs and covering tunes by Jeff Beck, Return to Forever, George Duke, Herbie Hancock and other 70s fusion material. New Legend used to blow people's minds because they were so young and they played such intricate material.
Stef's first real club band was Omega with Mickey Thomas who later had many hits with Starship. At this point, Stef played a Les Paul Standard. Omega was a large funk band that worked a lot; they were very funky had horns like Tower of Power.
In 1989 Stef joined Y&T, toured and recorded four albums. Prior to joining Y&T and during and after, Stef recorded with and toured with many artists including Jesse Colin Young (Youngbloods), Pablo Cruise, Sheila E, Berlin, The VU, jazz saxophonist Sadao Watanabe, and Alice Cooper (and he had a part in the hit film Waynes World). In addition, Stef does albums, TV and radio commercials, film score work and live shows for various artists and producers including Narada Michael Walden, Quincy Jones, Marc Russo (Yellowjackets), Stevie Wonder, Steve Winwood, James Taylor, Sheryl Crowe, Nile Rodgers, and Narada. Another was in Japan for the "Super Producers Tour 1995" with Narada Michael Walden featuring Patti Austin, Sheila E., Mickey Thomas, Shanice Wilson, Tevin Campell, T.M. Stevens, and Weather Report members Joe Zawinul and Alfonso Johnson.
In 2003, Stef was in three bands at once–Y&T, Huey Lewis & The News, and Italian rock star Vasco Rossi–and experienced scheduling conflicts with Y&T's touring schedule; unfortunately, Y&T drew the short straw and Stef carried on with the other two bands. Currently, Stef divides his time between the US and Italy, as he continues to tour with his own Stef Burns League and perform with Italian rock star Vasco Rossi.
Photo Credit: jimmydegrasso.com
Jimmy DeGrasso

Jimmy DeGrasso played drums with Y&T during the mid 1980s and throughout the 1990s before moving on to Alice Cooper, White Lion, Suicidal Tendencies and later Megadeth. Born and raised in Bethlehem, PA, Jimmy learned drums at an early age, studying jazz and rock styles. Jimmy first broke into the business doing session for Ozzy Osbourne. He also garnered a Grammy nomination while with Suicidal Tendencies and performed at the illustrious Woodstock "99 concert with Megadeth. Jimmy has toured with Alice in Chains and most recently with Stone Sour, Marty Friedman and David Lee Roth.
He has also performed at the prestigious Ultimate Drummers Weekend in Australia and Modern Drummer Festival here at home.
Photo Credit: Kevin Graft
Brad Lang

Y&T called Brad Lang in to substitute for original bassist, Phil Kennemore, when doctors ordered Phil off the tour in July 2010. Within 24 hours, Brad had learned 21 songs (including Phil's vocal harmonies) and was out touring the world with Y&T on the Facemelter tour. Brad's quick-study nature has landed him on stage and in the recording studio with some music industry greats. Upon Phil's untimely passing in January 2011, the band kept Brad on board.
On the anniversary of Brad's 100th show with the band, Y&T recorded the 2-disc set "Y&T: Live At The Mystic."
Brad has performed on countless recordings, including Jet Red's self titled release, Roger Hodgson's (Supertramp) "Hai Hai," Tommy Tutone's "Rich Text Files," War and Peace's (Jeff Pilson – Dokken, Dio, Foreigner) "Live at the Cavern Club," Canada's Raw Red Moses self-titled release, and Benedictum's "Uncreation," to name a few.
In 2016, Y&T and Brad amicably parted ways, and Brad's good friend Aaron Leigh stepped in as the second bassist to honor Phil Kennemore's original position.
: : Brad Lang on Facebook