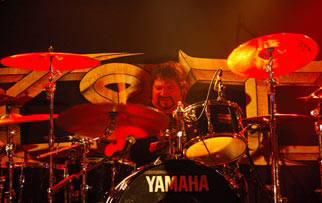 Photo Credit: Jill Meniketti
Mike is a straight-ahead drummer with great feel and chops, whose passion for music shows in all he plays. Having grown up exposed to so many genres of music, Mike feels at home playing in many styles.
As a side man, Mike has performed and/or recorded with Montrose, Vince Neil (Motley Crue), John Denver, Neal Schon (Journey),Greg Kihn, Steve Lukather (Toto), Eric Martin (Mr.Big), Mickey Thomas (Starship), Geoff Tate (Queensryche), Fee Waybill (The Tubes), Jesse Collin Young (Youngbloods), Alcatrazz (featuring Graham Bonnet), Jennifer Batten (Michael Jackson), Jeff Scott Soto (Talisman, TSO), Ron Keel (Keel), Jeff Watson (Night Ranger), Tyran Porter (Doobie Bros.), Stu Hamm (Joe Satriani, Steve Vai), Frank Hannon (Tesla), Andreas Öberg (world-acclaimed jazz guitarist), Larry Mitchell (Tracy Chapman, Billy Squire, Rick Ocasek), blues/rock artist Jackie Greene, and country artist Shelly Streeter.
Prior to Y&T, Mike recorded and toured with SoulMotor, featuring Brian Wheat (Tesla) and Tommy McLendon (UFO). He's also recorded three albums and toured internationally with guitar virtuoso Michael Lee Firkins, and was a member of Seven Reasons, whose self-titled CD (which Mike produced) earned them support for Bon Jovi.
When not on the road, Mike stays busy doing recording sessions, teaching, and producing artists, as well as recording drums online from his own studio. He has decades of experience teaching all styles of drumming to students of all ages, both privately and online, as well as studying extensively with drumming great Steve Smith.
Mike currently tours the world with Y&T.